Muthoot Finance Ltd.'s Net Profits Crosses Rs.1000 Crore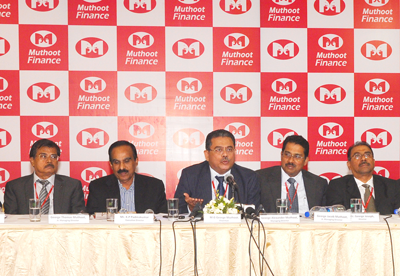 Muthoot Finance Ltd, the largest gold financing company in India in terms of loan portfolio, registered a growth of 13% in its net profit to Rs.1,004 Crore for the year ended March 31, 2013 as compared to Rs.892 Crore of the previous fiscal. For the quarter ended March 31, 2013, the net profits stood at Rs.220 Crores as against Rs.235 Crores last year. Total income for FY13 stood at Rs.5,387 Crore, as compared to Rs.4,549 Crores in FY12, a growth of 18%.
Commenting on the results M G George Muthoot, Chairman, stated that "The Company could achieve 13% growth in net profits crossing Rs.1,000 Crores in a tumultuous year marked by regulatory changes and sentiment driven market speculations affecting the interest of various key stakeholders. We could achieve a portfolio growth of 7% during the full year.
The Company remitted to the exchequer Rs.517 Crores as income tax. The company has decided to increase the standard asset provisioning from present RBI stipulated norm of 0.25% to 0.30% in the quarter and increase it over a period of time to achieve 0.40% standard asset provisioning in the light of Usha Thorat committee recommendations and draft RBI circular issued in Dec 2012 for public comments. On account of the good performance of the Company, Board of Directors has recommended a dividend of 45% for the year ended FY 2013 for shareholders approval.
The company is strengthening its collection mechanisms so as to restrict the increase in Non-Performing accounts. While gold price is a relevant factor for the gold loan business, it need not have a direct correlation to the collection behaviour. The perception of the business model needs to be understood in this respect. Its our endeavour to improve the collection mechanism by engaging with the borrowers and reminding them about the dues. Just because an account has fallen into NPA category, it need not result in a loss for the company. Demand continues to be robust. Indeed, it is a popular product among the masses.