Muthoot Finance Wins Skoch Financial Inclusion Award 2013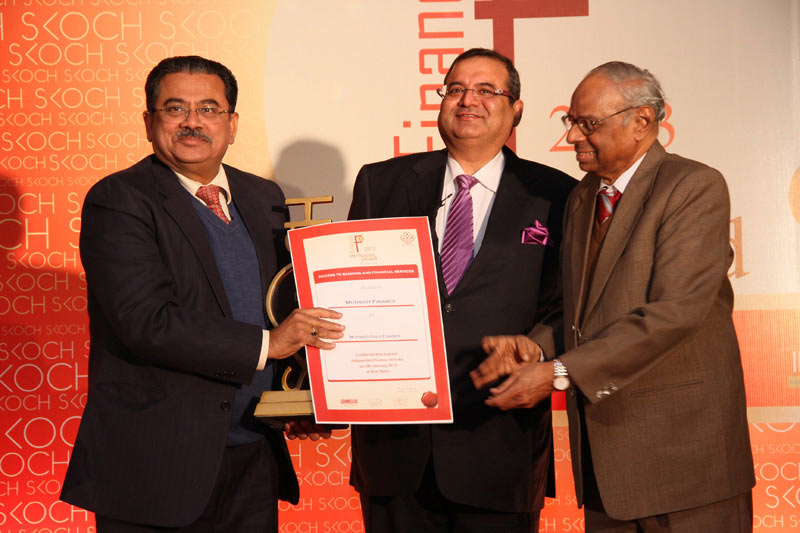 On the occasion of Financial Inclusion Day, Muthoot Finance, the flagship company of The Muthoot Group won the coveted Skoch Financial Inclusion Award 2013. The award was conferred by Dr C Rangarajan, Hon'ble Chairman, Economic Advisory Council to the Prime Minister at Hotel Shangri-La, New Delhi. Muthoot Finance has received the award in recognition of its major initiative in the area of 'Access to Banking and Financial Services' to the aam aadmi who had been excluded from the country's banking network for decades.
Since its inception in 1939, Muthoot Finance has brought thousands of rural and semi-urban Indians into the banking net for the very first time by venturing into the last mile of the remotest rural areas of India. It is one of the first Indian companies to consider thousands of rural Indians as perfectly bankable even before the term 'financial inclusion' was coined. A pioneer in the Non-Banking Financial Company (NBFC) sector, it has been successful in making the unorganized sector into an organized sector and thus, saving the rural masses from the clutches of local money lenders. With a customer base of over 6 million and serving around 80,000 customers every day who seek loan against gold ornaments, Muthoot Finance has changed the concept of gold loan from a 'last resort' or 'desperate loan' option to a 'lifestyle banking product'. It has made gold jewellery, which was considered to be a static asset and kept in the lockers of the houses few years back, an economically productive asset and an economy driver. The massive branch expansion has also led to a lot of employment opportunities in Tier II, III & IV cities.